Railway firm fined £180,000 after 13-year-old electrocuted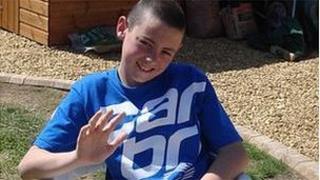 A railway company has been fined £180,000 for health and safety breaches after a 13-year-old was electrocuted in a disused Liverpool depot.
Liam Gill died after climbing to the top of a rail wagon while trespassing with two friends in Allerton in 2009.
English, Welsh and Scottish Railways International (EWSI) was also told to pay £59,554 in costs at Liverpool Crown Court.
The court heard the group entered the depot via a gap in the boundary fence.
The Office of Rail Regulation (ORR), who brought the prosecution, said the depot contained a number of abandoned train wagons.
These wagons were kept beneath a live 25,000 volt overhead power line.
The ORR said Liam climbed on to the roof of a train wagon and was electrocuted and died of his injuries.
His friends, both aged 14, suffered severe burns during the incident.
Safety risks
The ORR said Liam's death was caused by EWSI's failure to manage risks at the site.
It said the judge found that EWSI was aware that trespassing was taking place at the depot, yet did not take sufficient steps to prevent it from happening.
Ian Raxton from the ORR said the incident "could have been prevented", as it was "totally unacceptable" to leave cables switched on in a depot known to be accessed by trespassers.
He added the group "should not have been trespassing", but there was "no excuse for companies to not take appropriate action against trespass".
The ORR confirmed enforcement action has been taken requiring the company to repair the fence and to turn off the power supply to the unused overhead lines.
In 2011, EWSI pleaded guilty to one charge under the Health and Safety at Work Act and one charge under the Management of Health and Safety at Work Regulations.
A spokesperson for EWSI said: "Our thoughts remain with the family and friends of Liam Gill following the conclusion of court proceedings.
"We will continue to work with others in the rail industry and local communities to help educate children and young people on the dangers of trespassing on the railway."