Hannah Windsor murder: Boyfriend Adam Lewis jailed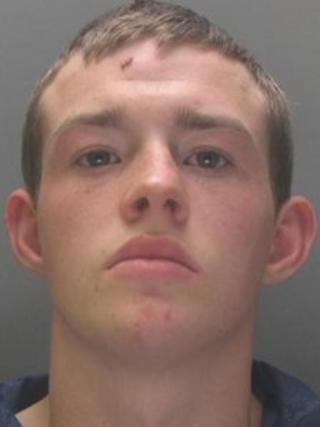 An 18-year-old who murdered his girlfriend in a "sexual and sadistic" killing has been jailed for life.
Adam Lewis, of Fairmead Road, Moreton, Wirral, tied Hannah Windsor, 17, to a tree on Bidston Hill before attacking and strangling her on 19 May.
He had denied murder, but changed his plea before his trial was due to begin at Liverpool Crown Court on Monday.
Mr Justice Holroyde ordered him to serve a minimum term of 22 years.
'Merciless attack'
The judge told Lewis he was a troubled young man and said he was sure the murder involved both a sexual and a sadistic element.
He said: "Adam Lewis, that was a prolonged, merciless and terrible attack, which must have been agonisingly painful for Hannah Windsor before she died.
"You must have known what dreadful pain you were causing her."
The court was told on Monday that Hannah, from Birkenhead, and Lewis, who were both diagnosed with Attention Deficit Hyperactivity Disorder (ADHD), had met when they were pupils at a Wirral special school.
The pair had been in a relationship for about seven months before splitting up and reuniting about six weeks before he killed her.
'Chilling reading'
The court heard Lewis had a mental age of nine or 10 and a personality disorder connected to irrational and violent behaviour.
The judge said his mental disorder did not provide an explanation for what he did.
In the days before the murder, he had been hiding from police after carrying out a burglary during which he started a fire.
He was sleeping in a tent he pitched in a woodland clearing on Bidston Hill, a beauty spot on the outskirts of Birkenhead.
The court was told Hannah had visited police and they knew she was aware of Lewis's whereabouts.
The police warned her not to visit him but she did and Lewis, who felt she had betrayed him, tortured and killed her.
He tied her to a tree, stabbed and cut her repeatedly and strangled her.
The judge said the evidence of the Home Office Pathologist who examined her body made "chilling reading".
Two days after Hannah disappeared, Lewis was found by police sleeping rough at a railway station.
A search of the police national computer revealed he was wanted for burglary and arson and he was arrested before being released on bail.
While on bail he told his sister he had killed Hannah and his grandfather contacted police.
Lewis was re-arrested and taken to Bidston Hill where he showed police where Hannah's body was hidden.
'Best day'
Lewis also pleaded guilty to two counts of sexual assault, two counts of burglary and one count of arson.
In addition to the life term for Hannah's murder, he was sentenced to five years and six months for each sexual assault.
He was also sentenced to three years and four months for the arson and two years and six months for the burglaries.
The judge ruled that all of the sentences will be served concurrently.
Speaking outside court, Hannah's mother Gaynor Murray said it was the "best day of her life".
She said: "I'd like to say a big thank you to everyone who supported me.
"He deserved what he got and I'm so made up. It's the best thing that ever happened.
"The best day of my life was today, and now we can actually mourn in peace for Hannah."
She added: "She was lovely. The smile on her face was unbelievable, she was just a lovely little girl, my baby."
Det Insp Mark Tivendale, of Birkenhead CID, said: "Hannah was in the prime of her life and she should have been looking forward to the rest of her life but sadly her future was taken from her by Adam Lewis.
"The sentence today will not bring Hannah back but hopefully the conclusion of this case will bring some closure for Hannah's family and friends."