Merseyside Police and Crime Commissioner Jane Kennedy sworn in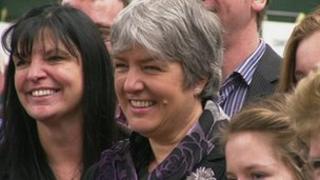 The former MP for Liverpool Wavertree has been sworn in as Merseyside's first police and crime commissioner (PCC).
Jane Kennedy, 54, was presented to the force during a meeting at Merseyside Police headquarters in Liverpool.
The Labour candidate beat five other candidates to win 56.2% of first preference votes.
In a brief ceremony she vowed to serve the people of Merseyside and to put her allegiance to the police force above her Labour party convictions.
Ms Kennedy will be paid a salary of £85,000 a year.
She will be responsible for setting Merseyside Police priorities and overseeing the force's budget.
Founded in 1974, Merseyside Police covers an area of 250 sq miles (650km) and serves about 1.5m people.
The PCC election saw 12.4% of the Merseyside electorate cast a vote.