Hillsborough inquests date set for next week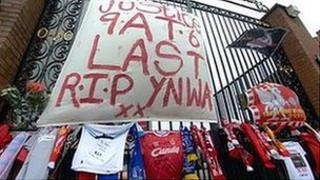 An application to quash the original Hillsborough inquest verdicts is due to be heard at the High Court next Wednesday, it has been confirmed.
The application was made by Attorney General Dominic Grieve on Monday.
Families of the victims have campaigned for years to have the original 1991 accidental death verdicts overturned.
Mr Grieve said the main basis for the move was new medical evidence, made public in the Hillsborough Independent Panel report in September.
He said the alteration of evidence by the police and other emergency services was also a supporting factor, along with stadium safety.
'Deflect blame'
The application is due to be heard on 19 December by the Chief Justice Lord Judge and two other judges in London - subject to any applications by "interested parties" to adjourn.
Ninety-six Liverpool supporters died in the crush at Sheffield Wednesday's Hillsborough stadium on 15 April 1989, when their team met Nottingham Forest in an FA Cup semi-final.
The Hillsborough Independent Panel's report revealed police and emergency services had made "strenuous attempts" to deflect the blame for the disaster on to fans.
It also found 164 police statements had been altered - 116 of them to remove or change negative comments about the policing of the match.
The report said 41 of the 96 who had died had had the "potential to survive".
Officers investigated
The Independent Police Complaints Commission (IPCC) has also announced it has begun updating the victims' families on its investigation.
Deborah Glass, the IPCC deputy chairwoman, said the it would be looking into the actions of more than 2,000 police officers.
She said: "At present we have a list of 1,444 names provided by South Yorkshire Police covering officers who were apparently on duty at Hillsborough, who responded to the disaster or who were involved in the aftermath.
"In addition we are aware that 30 more police forces or police-related bodies had officers or staff who played some kind of role in relation to Hillsborough - that covers more than 400 officers.
"And we are aware there may be more officers whose details we have not had yet, particularly from West Midlands Police.
"So we estimate we will have in excess of 2,000 names to analyse."
She said the IPCC was discussing setting up a "challenge group" of independent people who can scrutinise the work of both the IPCC and the office of the Director of Public Prosecutions (DPP) to keep the families updated about the progress, independence and robustness of the work.