Hillsborough walk: Team begins 96-mile walk for victims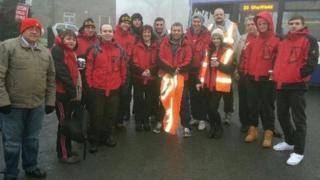 Twelve Liverpool fans have set off on a 96-mile (154km) walk from Sheffield to Anfield to raise money for families of the Hillsborough victims.
The team left the Sheffield Wednesday stadium at 07:30 GMT and aim to reach the Hillsborough Memorial at the Liverpool ground by noon on Saturday.
Ninety-six roses will be laid at the memorial by the group when they arrive.
The route covers the grounds of Huddersfield, Oldham, Manchester City, Bury, Bolton, Wigan and Everton.
Walkers on the Reds' Rose Walk hope to raise more than £15,000 to split between the Hillsborough Family Support Group and Hillsborough Justice Campaign.
'Sombre moment'
There will be collection boxes around Goodison Park and Anfield and people can also make donations online.
Co-organisers Mike Wilson, from Halifax, and Cherie Brewster, from Stockton-on-Tees, were both at the start of the walk on Friday morning.
They were joined by former Liverpool player Neil Mellor, who walked the first stage with the team. Dominic Matteo will also join the group along the way.
Ms Brewster said all the walkers participating in the event did the first mile - but from then on the walk will be divided into 16 stages, with groups of four taking their turns to walk.
Those not walking will travel on a bus alongside the team, being driven by Hillsborough survivor Hugh Hendrickson of Liver Executive Tours, who donated his services after reading about the walk in the local press.
Mr Wilson, who was at Hillsborough on 15 April 1989, said: "It is emotional for all of us.
"Before the start of the walk we made a point of saying the names of all the 96 that we lost.
"It was a sombre moment but it taught us why we are doing it."
Ms Brewster said the team was not deterred by the cold and icy weather.
She said: "We are about half way through the first leg, having slid our way out of Sheffield.
"We are a little bit behind time but we are all ok. There are 12 of us walking, four at the moment as we are doing a relay. We are all supporting each other."