Museum of Liverpool wins Council of Europe prize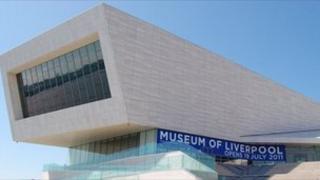 The Museum of Liverpool has been given the European Museum prize for 2013 by the Council of Europe.
The human rights watchdog said the museum traced the social, economic and political history of one of the most socially diverse cities in the UK.
The museum, which opened last year, will receive a bronze statuette by Joan Miro, to keep for a year.
The Council of Europe said it had "an exemplary recognition of human rights in museum practice".
'Mutual respect'
It added: "The interaction with local community is excellent - with numerous activities involving children, youth, families and elderly.
"It promotes mutual respect between ethnically and socially diverse parts of the society, addresses human rights through contemporary debates and dialogue and maintains an open and inclusive policy aimed at bridging cultures in every aspect of its work."
The Council of Europe Museum Prize has been awarded annually since 1977 to a museum judged to have made a significant contribution to the understanding of European cultural heritage.
Previous winners include the Rautenstrauch-Joest-Museum in Cologne, Germany; Portimão Museum in Portugal and Zeeuws Museum in the Netherlands.
The Museum of Liverpool, which is on the city's waterfront, has four main galleries looking at the development of the city and its global links, sporting history and its people.