Australia waterfall death man Josh Furber 'lived to max'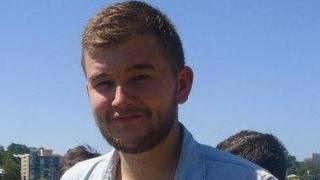 A 20-year-old man who died after falling from the top of a waterfall in Australia "lived life to the max", a relative has said.
Josh Furber, from Runcorn, Cheshire, slipped and fell about 100m (300ft) at a beauty spot near Sydney on Sunday.
The Leeds Metropolitan University student had taken a year out to travel.
His family said in a statement: "We are devastated, though we know he was having a great time, with good friends in a beautiful part of the world."
His father Mark, mother Jayne and sisters Danielle and Beth added: "We now need time to be on our own as a family, to support each other and cherish our proud memories of a wonderful son and brother."
'Massive character'
Mr Furber had recently written on Twitter about living his dreams and said he was "in love" with Australia.
Another relative, Helen Ford, wrote on a Facebook tribute page: "He loved life and lived it to the max... and loved his family to the max."
More than 500 people have joined the tribute site, which sister Danielle set up in memory of her "amazing brother".
She said the support the family had received "shows what a massive character and good person he was to everyone who had the pleasure of meeting him".
Teachers at The Heath School in Runcorn said Mr Furber was a popular and outgoing student, and a loyal friend.
A school spokesman said: "He was a genuine pleasure to teach, giving 100% to everything that he attempted, and was gifted. He will be sadly missed."
'Greatly missed'
Professor Sally Glen, of Leeds Metropolitan University, where Mr Furber was a third year construction management student, said: "Our thoughts are with his family and friends at this very difficult time.
"Josh will be greatly missed and we are offering support to students and staff who knew him."
Mr Furber was in a group of eight friends who had travelled from Sydney's Bondi area to Wentworth Falls in the Blue Mountains for a picnic and a walk, News South Wales Police said.
Witness Rosa Petroccitto said: "I saw a group of French and English kids mucking around on the rocks and it's very slippery.
"I knew something was going to happen, the we just saw panic and a boy fell over 100 metres down the waterfall."
The Foreign Office said it was providing consular assistance to his family.