Royal Liverpool Hospital trust 'to cut 600 jobs'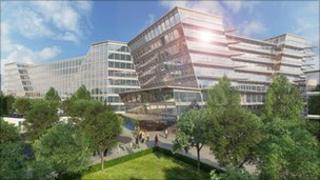 Up to 600 jobs could be cut at a hospital trust in Merseyside.
The Royal Liverpool University and Broadgreen Hospital Trust said it was having to make savings, "just like every other part of the NHS".
But union leaders claim the jobs are being sacrificed to fund investment in a new hospital site.
Trust chief executive Aidan Kehoe, rejected this saying: "These savings are not being made because of the new Royal."
"To make these savings we are looking at a wide range of measures across the health system," he said.
"We will do everything possible to minimise the impact on our staff. However as staffing forms a significant part of our costs, it is likely that staff will be affected."
Paul Summers, from Unison said: "I cover most NHS trusts in the Merseyside area and I'm not aware of any trust that's looking to shed up to 600 posts.
"There's an awful lot of questions that need to be addressed."
The government gave the go-ahead for the new £450m hospital in July and work is due to start in the spring.