Anonymous hacker group: Jake Birchall given youth order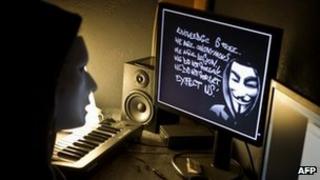 A teenager has avoided a jail sentence for his part in a plot to carry out cyber attacks on large companies with the Anonymous activist group.
Jake Birchall, 18, from Chester, was given an 18-month youth rehabilitation order at Southwark Crown Court.
He previously admitted conspiring to impair the operation of computers between August 2010 and January 2011.
Two of his co-accused were jailed for the attacks on companies including PayPal, MasterCard and Visa.
Judge Peter Testar also sentenced Birchall to 60 hours of unpaid work.
Paralysed systems
The financial sites were chosen by Anonymous as part of so-called Operation Payback because the hackers did not agree with their views.
Distributed denial of service, or DDoS, attacks paralysed computer systems by flooding them with a huge number of online requests.
Victims' websites would be directed to a page with the message: "You've tried to bite the Anonymous hand. You angered the hive and now you are being stung."
The group's sabotage cost PayPal £3.5m.
Christopher Weatherhead, 22, from Northampton was jailed for 18 months after being found guilty of the same charge.
Ashley Rhodes, 28, from south London, was given seven months. Peter Gibson, 24, from Hartlepool, was given a six-month suspended sentence.
The court had previously heard that PayPal was attacked after it decided not to process payments on behalf of the Wau Holland Foundation, an organisation involved in raising funds for the Wikileaks website.