Liverpool cancer patient persists for treatment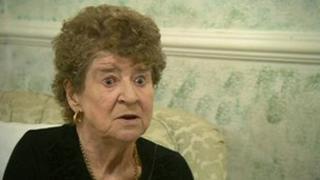 A lung cancer patient who was told no treatment was suitable for her is celebrating being free of the disease.
Cecilia Cannon, 74, was told she would only receive palliative care at Liverpool Chest and Heart Hospital.
When her daughter researched treatments online, they asked to be referred for a treatment called radio frequency ablation (RFA).
Mrs Cannon had the treatment at the Royal Liverpool Hospital in 2011 and is now on her way to recovery.
She said: "I felt like I was in a dream with the thought of going home to die and no treatment available."
Electric current
The Liverpool Chest and Heart Hospital does not carry out RFA treatment, but did agree to refer her to the Royal.
The treatment involves a needle with wires attached being inserted into the lung. An electric current heats up the tumour and kills it.
Dr Jonathan Evans, consultant radiologist at the Royal, said: "We may have a group of patients who are too unwell to have an operation and they can tolerate this very easily.
"Some will still be able to have a general anaesthetic for this, despite their poor lung function."
Mrs Cannon, a great-grandmother from Wavertree, Liverpool, has had two courses of RFA under a local anaesthetic.
A statement Liverpool Heart and Chest NHS Foundation Trust said: "The trust referred the patient for a further opinion at the family's request on the date the request was made, making them aware that an option for RFA treatment was available at the Royal Liverpool and Broadgreen University Hospitals Trust.
"At no point has the family raised any concerns with Liverpool Heart and Chest Hospital."