Liverpool Marathon: Event called off by organisers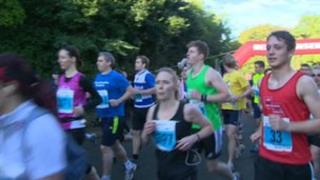 The Liverpool Marathon has been cancelled this year after organisers could not agree a suitable route.
The event, which was due to take place on 13 October, was called off after a meeting between organisers Btr Liverpool Limited and the city council.
It has previously started in Birkenhead Park and ended at the Pier Head.
Btr Liverpool said it was asked to change the route to ease impact on Liverpool waterfront roads, but that had not been possible.
Anyone who has entered the marathon will have their entry fee refunded.
'Saddened'
In a statement, Alan Rothwell from Btr Liverpool said: "It was suggested the event ran from Liverpool to Wirral and whilst that may seem quite straightforward it is far from it.
"I have taken the decision that this is not in the long-term interests of the race and consequently feel I have no alternative than to cancel."
He said he hoped a half marathon or 10km event based in Wirral could be arranged for the same date, but details are yet to be confirmed.
Liverpool City Council said: "We are surprised and saddened to learn that the marathon has been cancelled.
"We have been particularly keen to build in feedback from businesses, residents and visitors about previous marathons, and minimise the impact on people who travel into the city for other purposes on the day."
The event would have been in its third year, after it began in 2011.
The 26-mile route started in Birkenhead Park and took runners to New Brighton, through the Queensway Tunnel, along Liverpool Docks and to Princes Park and Sefton Park.
The race finished on Liverpool's Pier Head, in the shadow of the Three Graces.