Marie McCourt on her hopes of finding daughter's body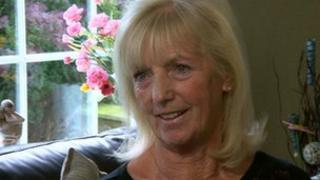 The mother of a woman who was murdered 25 years ago but whose body has never been found has said she will never give up hope of finding her remains.
Helen McCourt was 22 when she disappeared near her home in Billinge, near St Helens, on 9 February 1988.
Ian Simms was convicted of her murder by overwhelming DNA evidence in 1989, but has never said where her body is.
Helen's mother Marie McCourt said she just wants to be able to give her daughter a burial.
She said: "He has denied her her life.
"He has taken away her chance of getting married, having children, he has taken away the final thing that we would even give to an animal, a pet, and that is the right to a burial.
'Open wound'
"I know Helen is never coming back to me alive, and all that I can ask now is that I can give whatever is left of her a burial in the church yard, so that one day when I come to die I can be next to her."
Pub landlord Simms was convicted of murder after blood and an earring identical to one she had were found in the boot of his car. The jury agreed she had been attacked at his pub, The George and Dragon, in Billinge.
He is serving a life sentence having been denied parole and still maintains his innocence.
Helen went missing after she telephoned her mother to say when she would be home from work in Liverpool.
Mrs McCourt and her family have spent years looking for her body and have even used divers, drained ponds, crawled through old mine shafts and used a digger to excavate drain ditches in their search.
She said: "It is horrendous to lose a child in any circumstances whether it is through health or anything, but to lose one in the circumstances in that you know somebody has attacked them violently, it is like an open wound it can never heal."