Liverpool City Council to sell vacant houses for £1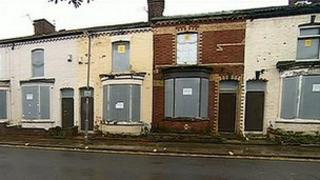 Liverpool City Council has unveiled plans to sell off up to 20 vacant houses for £1 each to help "drive up the quality of housing".
The sales are part of an initiative to bring 179 homes in Granby, Kensington and Picton back into use.
New owners would be expected to refurbish the £1 houses and live in them for at least five years.
Councillor Ann O'Byrne said the plans would give "a really good foundation for the future of housing" in the city.
The plans would also see small groups of properties sold to private landlords and some houses transferred to social housing provider The Riverside Group, which will renovate them and sell them on for 25% less than market value.
A spokesman for the council said the initiative, which will be considered by the mayor's cabinet on Friday, would "drive up the quality of housing and build stronger, more sustainable neighbourhoods".
He added that the proposals would replace a contract offer made to developer Leader1 Liverpool to deliver housing regeneration in the three areas, which was withdrawn last year.
Ms O'Byrne said the council wanted to "find innovative ways of bringing properties back into use and attracting people back into our neighbourhoods".
"Ultimately, it's about driving forward housing renewal, investing in the future of our communities and doing everything we can to provide good quality, affordable housing for the people who need it most," she said.