Beth Parr lied about cancer to 'fleece' Maureen Briscoe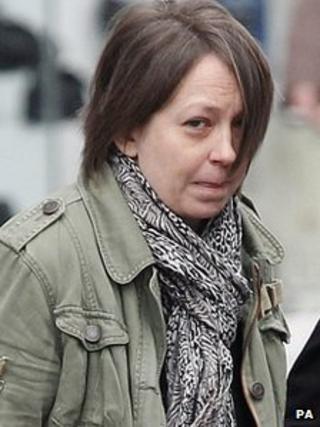 A woman who conned a friend out of almost £130,000 by pretending to have four types of cancer has been jailed.
Beth Parr, 36, from Birkenhead, Merseyside, told Maureen Briscoe she needed the money for the treatment of brain, eye, lung and bone cancer.
Parr also told her husband and 14-year-old daughter she was ill.
Sentencing her to two years and four months at Liverpool Crown Court, the judge said Parr had "deliberately and cynically" targeted the woman.
Prosecuting, Kim Egerton said after taking Ms Briscoe into her home following a fall, Parr had been told by the 68-year-old that she intended to leave her house to her in her will.
Ms Egerton said having been taken into the confidence of the older woman, Parr had discovered Ms Briscoe had an "obsessive phobia of cancer".
As a result, she pretended to have cancer and asked Ms Briscoe to pay for expensive treatments, including £10,000 in 2010 for experimental brain cancer treatment, £21,000 for a "lung wash" in 2011 and £30,000 for a remedy for bone cancer in 2012.
'Forgiveness'
Her fraud was discovered when Ms Briscoe's financial advisors became concerned that she was paying too much money to Parr, of Yelverton Road.
After inquiries were made to the Christie in Manchester and other hospitals where Parr claimed to have been treated, it was confirmed that she had never had any treatments.
It was discovered that the money had actually been used to pay for a holiday to Jamaica, tablet computers and a vehicle, amongst other things.
A statement from Ms Briscoe was read to the court in which she said Parr was like her family and that while she was "glad" she did not have cancer, she believed the 36-year-old should be punished.
She added she "can't actually hate Beth and ultimately I would like us to come to some sort of forgiveness".
'Accomplished fraudster'
Defending, John Weate said Parr had been lying to her family about having cancer for 10 years prior to the offences against Ms Briscoe and had begun a "web of lies" after a cervical smear test revealed "unstable cells".
"She elaborated on that to suggest to her family, her friends and anyone who knew her, saying that she was suffering from cancer," he said.
He added that Parr had separated from her husband because of what happened but they were now trying to rebuild their relationship and he had come to court to support her.
Sentencing her, Judge Dennis Watson QC said Parr had been motivated by greed and "deliberately and cynically" took advantage of Ms Briscoe.
"Four different forms of cancer were all deployed cynically in an attempt, to use the old fashioned phrase, to fleece her," he said.
"The wool on the back of the animal was shorn and fleeced with the skill of an accomplished fraudster."
He added that Parr knew Ms Briscoe was on her own and "targeted her because of that".