Marcos Ringle attack in Crosby: McCaig brothers jailed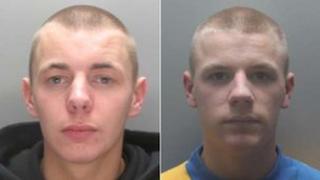 Two brothers who committed a series of violent offences on Merseyside over a four-day period have been jailed.
Appearing at Liverpool Crown Court on Friday, Martin McCaig, 22, and Ryan McCaig, 17, were jailed for life and 10 years respectively.
The brothers, from Walton, admitted assaulting 16-year-old Marcos Ringle. He suffered life-threatening injuries.
Following the 15 July attack on Marcos, Merseyside Police connected the brothers to several other assaults.
Marcos was riding a bike in Coronation Road, Crosby, on 15 July when he was attacked.
A 63-year-old taxi driver was also also left with life threatening-injuries after a robbery in Liverpool on 12 July.
Police said the brothers had targeted "vulnerable victims", including two women walking alone.
'Despicable and cowardly'
Ryan McCaig also admitted the robbery of a woman working at an ice cream kiosk in Crosby on 14 July.
In total, he pleaded guilty to five counts of robbery and two counts of causing grievous bodily harm with intent.
Martin McCaig admitted four counts of robbery and two counts of causing grievous bodily harm with intent. He will be assessed for parole in seven years.
Their mother, Jean Stafford, was found guilty of attempting to pervert the course of justice and received a 15-month jail sentence.
Police said Stafford, from Walton, gave officers a false account of her sons' whereabouts on the night Marcos was attacked.
Det Insp David Keegan said: "These two brothers have brutally assaulted and robbed six people in just four days, inflicting life-threatening and life-changing injuries on two and affecting all of them to this day.
"The McCaigs committed a series of despicable and cowardly attacks on people who were alone and out late at night, so more vulnerable and an easy target.
"The suffering Marcos and the other victims have endured and the distress and heartbreak suffered by their families can never be taken back."