Wilfred Owen: Music that influenced war poet discovered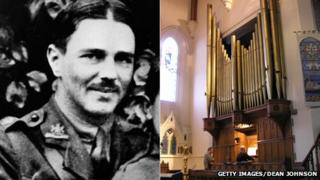 Organ music that had a "profound effect" on WWI poet Wilfred Owen has been recreated after forgotten sheet music was found in a church's basement.
The poet was a regular at Oxton's Christ Church, where he heard organist Edward Townshend Driffield's works.
A recording of his work, Cavatina, played on the organ from Owen's time, has been made at the Merseyside church.
Dean Johnson of The Wilfred Owen Story museum said it was "fascinating" to hear what the poet heard.
Owen lived in Birkenhead between the ages of 4 and 13 and served as a choir boy at the Oxton church.
Mr Johnson said his "poethood" was born in the period and that the church had been a "significant influence" on his childhood.
"Owen was devoutly religious - he would have seen God in every word that he read in church and in every note of music that he heard," he said.
"The atmosphere at Christ Church is very powerful and the great organ reverberates as if from heaven itself - all this would have had a profound effect on Wilfred's sensitivity."
'Never been found'
Edward Townshend Driffield was a local solicitor, who composed music for and played the organ at Christ Church.
He was also the organist at St Paul's in Southport and composed for Liverpool's 700th Anniversary Pageant in 1907.
Mr Johnson said the composer's works from the period the poet attended the church were found during a search by current organist Paul Broadhurst.
He said Mr Broadhurst had searched the church for music written by Driffield and came across a copy of his composition.
"It was not lost in a sense but had never been found until we looked for it," he said.
Mr Broadhurst, who made the recording of the work, said he chose Cavatina, because text on its title page gave "an illuminating insight into the character of Mr Driffield, his music and the likely culture of Christ Church when Wilfred Owen attended".
"It read: 'an artistic rendering of this piece cannot fail to suggest to the listener's pure and beautiful thoughts, which should lift their souls to contemplate on the Divine Source from which emanates all Grace and Purity'."
The music has been used as a backdrop for a reading of one of the poet's best known works, Dulce Et Decorum Est, by the actor Christopher Timothy for a new musical production by Mr Johnson.