Chester Zoo helps Bali starling release project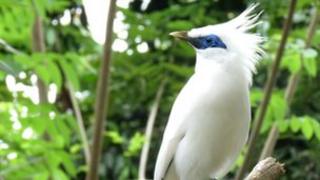 One of the rarest birds in the world has been released back into the wild, with help from conservationists from Chester Zoo.
Illegal poaching of the Bali starling reduced its native population to an estimated six birds in 2001.
Conservation breeding efforts on the Indonesian island have seen a small recovery to between 50 and 115.
Dr Roger Wilkinson, Chester Zoo's head of field conservation and research, said it was a "momentous moment".
He said the release of four pairs was the first time the birds had been introduced into the wild in central Bali.
"The area was specially picked as it was well protected and had staff able to monitor the rare birds," he said.
"Quite a crowd turned out as most people local to the area had never seen a live Bali starling before."
'Critically low'
In the late 1990s, the Bali starling became one of the rarest birds in the world.
Conservation partnership BirdLife International established the Bali Starling Project, with the cooperation of the Indonesian government and US and British zoos, in an attempt to save the species from extinction.
Armed guards were deployed to protect birds and captive-bred individuals were released to bolster the wild population.
Since then, Chester Zoo has been working alongside the Begawan Foundation and Jurong Bird Park to provide skills, expertise and funding for a breeding centre in Bali and assist in the release and monitoring of wild populations.
A zoo spokesman said the starling was still critically endangered because it has an extremely small range and a tiny population, which is still suffering from illegal poaching for the cage-bird trade.
Andrew Owen, the zoo's curator of birds said: "This is really great news but it's only the start.
"Whether or not they now go on to reproduce and ensure that youngsters survive and the colony expands is the next significant step.
"There's an awful long way to go but things now look a little brighter for the future remarkable species."