Liverpool fake vicar George Gordon admits £30k charity con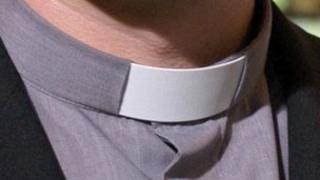 A "professional conman" who posed as a vicar to scam Liverpool charities out of £30,000 has pleaded guilty to fraud.
George Gordon, 52, of Chancellor Court, Toxteth, also admitted obtaining money transfers by deception, at Liverpool Crown Court.
Gordon conned money out of charities including the Merseyside Disability Federation, between 2005 and 2007.
Remanding Gordon in custody, Judge Stephen Everett said he could expect a "substantial" sentence, on 22 March.
Judge Everett said the crimes were "strikingly similar" to Gordon's previous offences.
'Cannot be believed'
He was previously jailed for three years in 1991 for theft and obtaining property by deception and for four years in 1999 for a "substantial number" of the same offences, the judge said.
He conned the Merseyside charities out of money by applying for grants of up to £5,000 and went on the run in 2008 after being questioned about the offences.
He was rearrested in Durham in 2011 following a nationwide appeal.
He admitted 20 counts of fraud and obtaining money transfers by deception and a further six counts were ordered to lie on file.
Judge Everett said Gordon was a "professional conman who cannot be believed when he says certain things".
"The sentence is going to be a substantial one," he explained.