Liverpool City Council cuts: Protests outside town hall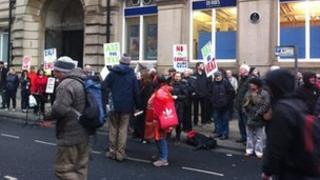 Up to 200 protesters gathered outside Liverpool Town Hall as the council prepared to discuss budget cuts of up to £32m for the next financial year.
Police said some of the group blocked part of Dale Street as a police van tried to pass by and one man was arrested for a public order offence.
The council plans to cut funding for adult and children's social care and close some libraries.
The authority is also proposing to cut 150 jobs in a bid to reduce its budget.
'Difficult times'
It said a restructure of the library network would save £1m a year while closing the Kirkby and Allerton municipal golf courses, which are running at a loss, would save £300,000.
Funding for sheltered housing wardens could be withdrawn and landlords may be asked to fund the shortfall, in a move which could save £1m.
The authority is also proposing to charge for alarms in sheltered housing, to save almost £500,000.
Homeless hostels at Geneva Road and Aigburth Drive are also at risk, with closures thought to save £150,000 per year.
The council's integrated youth and play service and truancy watch could also be cut under the plans.
The city council is yet to decide whether to freeze council tax or raise it by 1.8% to generate an extra £2m.
BBC Radio Merseyside's political reporter Claire Hamilton said many people were protesting about government spending cuts rather than specific cuts proposed by Liverpool City Council.
Some of them stopped councillors as they made their way inside, pleading with them to think again about the proposals.
The £32m budget savings come on top of the £141m of cuts over the past two years and further cuts of £46m in 2014-15, £35m in 2015-16 and £36m in 2016-17.
Labour mayor Joe Anderson has said the city faces "difficult times" and that drawing up the proposals had been "a horrendous process with some extremely difficult and hard choices".
A spokeswoman for Merseyside Police said: "The force was aware of potential protests outside of the town hall and had implemented a proportionate police operation to facilitate any lawful and peaceful protests.
"We will continue to work closely with partners to minimise any disruption to other members of the public and drivers and to keep the city safe and secure."