Beth Tweddle sculpture presented to her in Liverpool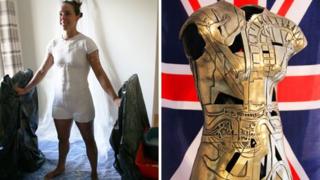 Olympic gymnast Beth Tweddle will be presented with a golden sculpture of her body at the Museum of Liverpool.
Artist Louise Giblin travelled to Ms Tweddle's Liverpool home to create the artwork in 2011.
The gymnast, who won a bronze medal at London 2012, had to stand with her body covered in plaster-filled bandages for an hour while the cast was made.
The plaster cast was then taken back to Ms Giblin's Sussex studio where the artwork was completed.
It weighed 1.5 stone (10kg) but Beth, who uses a 22kg jacket to do exercises, said she felt virtually nothing.
"It was a very strange feeling to actually have the body cast done. I had to stand still for an hour, which was a difficult task for me.
"I was also completely covered in what was like papier-mache and it was pretty heavy by the time the cast was around me.
"It was worth it though, I think the end result is brilliant."
The cast, which is gold-coloured, was originally exhibited alongside body cast sculptures of Dame Kelly Holmes, Kriss Akabusi, Sally Gunnell and Paralympian Darren Leach in Body Casting Olympians at the Mall Galleries in May 2012.