Liverpool FC: Fans call season ticket rise insulting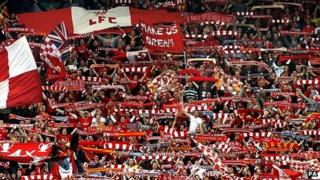 Liverpool FC fans say next year's season ticket rises are an "insult" to loyal supporters, despite a freeze on ticket prices for the Kop.
The club announced a six-tier pricing system, which will see prices increase by up to 9% in some areas of Anfield.
Fans group Spirit of Shankly called the increases inflation busting.
Liverpool managing director Ian Ayre said the club gave "careful consideration" to ticket prices and pricing over the past two years.
The most expensive full adult ticket for the 2013-14 season will be £850 an increase of just over 5%. The cheapest season ticket sells at £710.
Liverpool FC said season tickets in the Kop will remain level or reduced. The cheapest season tickets at neighbours Everton will be £427 next season.
'Too high'
Spirit of Shankly said: "In the midst of austerity, with redundancies and cutbacks a daily reality for many supporters, these inflation-busting price rises are an insult to long-standing supporters who have already suffered a massive 716% price rise since 1989.
"While the announcement regarding Kop season tickets is a relief to many, it is our belief that ticket prices are already too high, pricing out many of those that kept the club on its feet during its darkest days."
However, Mr Ayre defended the changes, saying: "Over the past two years the club has given careful consideration to ticket prices and pricing structures in consultation with the Supporters Committee.
"Following last year's price freeze, this year we have reviewed our overall stadium pricing structure and, similar to many other Premier League clubs, from next season we will also be introducing a multiple-tier pricing structure which will more accurately reflect seat location and view."
Liverpool currently has the ninth most expensive season tickets in the Premier League.
Arsenal has the most expensive, with prices ranging from £985 to £1,955.