Chester Zoo is England's top attraction outside London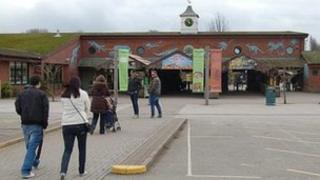 Annual statistics have shown Chester Zoo to be the top English large visitor attraction outside of London for the second year running.
The Association of Leading Visitor Attractions' (ALVA) list showed the zoo welcomed over 1.4m visitors in 2012.
The list also showed large visitor increases to Liverpool attractions such as the Walker Art Gallery and the Museum of Liverpool.
Chester Zoo's Dr Mark Pilgrim said new animal arrivals had been "a big draw".
The annual ALVA list put the zoo as the 15th most visited attraction in the UK, behind a number of London attractions and the National Museum of Scotland in Edinburgh.
It was also the highest placed wildlife attraction, ahead of London Zoo in 27th place and had 1,405,233 visitors in 2012, down 1.41% on its 2011 total.
'Constantly evolving'
Dr Pilgrim said the zoo had "stolen a march on attractions outside of the capital".
"We had a host of new arrivals last year with our breeding successes, including elephant and rhino calves, giant otter pups, orangutans and other species, all of which have been important for conservation but also a big draw for visitors," he said.
The most recent arrival to the zoo's breeding programme was a Kirk's dik-dik antelope named Aluna a fortnight ago.
The 8in (22cm) high antelope has had to be hand-reared by a zookeeper after being unable to bond with her mother.
Dr Pilgrim added that the zoo was "constantly evolving" in order to retain its visitor numbers.
On Merseyside, the Museum of Liverpool saw an increase of 53% in numbers, welcoming 1,011,056 visitors, with Tate Liverpool, the International Slavery Museum, the Walker Art Gallery, the Pier Master's House and Wirral's Lady Lever Art Gallery also increasing their year-on-year numbers.
However, there was a decrease in visitors to the Merseyside Maritime Museum and World Museum Liverpool.