Runcorn church allowed to continue teaching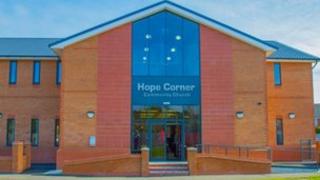 A Cheshire church has been allowed to continue teaching young people at its newly-built community centre.
Hope Corner Church applied to Halton Borough Council to amend planning permission for Hope Corner Academy, in Clifton Road, Runcorn.
It was given planning permission to operate as a community centre but sought approval to teach students with autism or Asperger's Syndrome.
The council approved the amendment at a meeting on Monday.
It will allow the academy to continue teaching people under the age of 20 who suffer from autism, Asperger's Syndrome and any other mental or physical impairment that has or could lead them to being excluded from normal education.
House prices
The church was granted planning permission in 2009 to build a two-storey community centre and church.
When it opened last year and began teaching young people, local councillors and residents objected to the building's use.
Those against the centre said it was breaching the permissions set when the original application was granted.
They also said the centre was never built to be a school, and if the scheme is approved it would lead to anti-social behaviour and cause house prices to fall.
The council said an amendment to the original planning permission was approved.
A second application for a lawful development certificate to use the building as a school was refused.
The church academy, which has now registered with Ofsted as an independent special needs school, is set to appeal the decision, the council said.