Merseyside gang sentenced over £6m drugs plot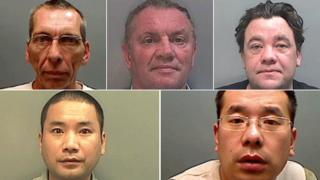 Five men who admitted plotting to produce drugs on an "industrial scale" have been jailed for nearly 24 years.
Jonathan Buckley, Richard Pheby, Paul Preston, Jicheng Zhang and Yongan Hu pleaded guilty at Chester and were sentenced at Warrington Crown Court.
The court heard Buckley recruited chemists Zhang and Hu from China to help set up a laboratory.
Police said the gang had orders for enough chemicals to make amphetamines with an estimated street value of £6m.
Gang leader Buckley, 56, of Gateacre Park Drive, Liverpool was jailed for seven years.
The scientists Zhang and Hu were each given three years, while Pheby, 53, of New King Street, Middlewich, and Paul Preston, 42, of White Cross Court, Newton-Le-Willows were each given five years for production of a Class B drug,
The gang rented a unit under a false name in Newton-Le-Willows where the laboratory was set up.
Steve Baldwin from the Serious Organised Crime Agency (SOCA) said: "This crime group posed a clear risk to public safety as they were planning to produce amphetamine on an industrial scale.
"They had already received an order worth over £5m and talked of setting up a bigger lab to cope with the demand.
"We had been watching their every move though and intervened before any drugs reached the streets."
Prosecutors said this was the first time this method of producing benzyl methyl ketone (BMK), a central ingredient for amphetamines, had been seen in Europe.
Buckley, who had been living in Thailand, travelled to China for a demonstration of the process before sponsoring the chemists' visa applications to come to Britain.
The group imported sodium 2-oxo-3 phenylglycidate, which is not an illegal substance, to use in the manufacture of BMK, which would then be turned into amphetamines.
Elizabeth Jenkins from the Crown Prosecution Service said: "These defendants were not run-of-the-mill drug dealers, this was pioneering work.
"A significant sum of money had been invested in the enterprise."
The five men were all arrested in August as part of a SOCA operation.
Chinese nationals Zhang and Hu will be deported at the end of their sentences.