Shots fired 'three times in an hour' at Merseyside houses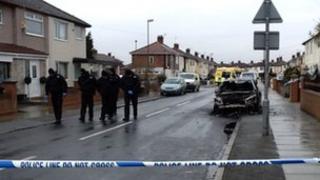 Shots were fired at three houses on Merseyside in less than an hour.
Police said the first incident took place on Fernbank in Maghull at 23:32 GMT on Thursday, when shots were fired at a house and damaged the windows.
At the same time, police were called to reports of shots and a car being set on fire on Moorland Road in Maghull.
Shots were also fired at the door of a house in Timon Avenue, Bootle, just after midnight but no-one was injured.
All three scenes have been cordoned off for forensic examinations to take place.
Anyone with information is urged to contact police.
The shootings came just hours after a meeting took place between residents and the Merseyside Police and Crime Commissioner Jane Kennedy.
The meeting was set up to talk about guns and gangs in the area.
Ms Kennedy said: "The three shootings last night were an extremely rare occurrence, we have seen crime going down for a significant period of time.
"What we have now is a growth of a particular kind of crime and we know what it is connected to.
"We need to tackle the causes of it and we need to bring to book those people who are involved in it."