Warrington bombing: Porter and paramedic recall helping victims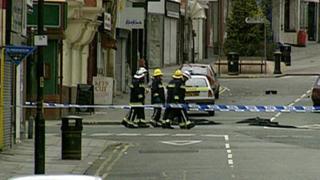 "There was a lady on the floor, blood was pouring everywhere and her legs were completely shattered."
This was Ron Riley's most vivid memory of the 1993 Warrington bomb when he was taped to a woman's leg to stem the blood from a severed artery.
The former soldier was clocking off from his porter's job at the nearby Golden Square shopping centre when one of two bombs exploded in rubbish bins on Bridge Street on 20 March 1993.
Three-year-old Johnathan Ball and Tim Parry, 12, died. It injured 54 people.
The first paramedic to arrive on the scene, Dave Chadwick, said: "It was like war had been declared on Warrington.
"It was the largest incident I had seen. Twelve patients needed treating but you have to decide what you can do viably before the next vehicle arrives."
Mr Chadwick, also a former soldier, said he knew it was going to be 17 minutes before another ambulance crew arrived so he had to decide which of the more serious casualties to treat.
'Roll me a cigarette'
Mr Riley, who had been working about three minutes walk away, was on hand to help.
"I wasn't scared I had seen bombs go off before," he said.
The lady he saw lying on the floor was Bronwen Vickers whose husband was also injured and they had a baby in a pram.
"I held her femoral artery, stopped the blood and just chatted to her," said Mr Riley.
"Staff came out from a nearby Boots chemist and provided dressings, they were absolutely brilliant."
Mr Chadwick talked Mr Riley through what to do.
"He said, 'don't let go' and taped me to her leg," said Mr Riley.
"There wasn't a lot I could do except laugh and joke with her. She said: 'From your top pocket I see you smoke roll up cigarettes. Could you roll me one?'
"I said: 'I'm not Roy Rogers I need both hands', so we got someone to make her a cigarette. All I did was to keep her awake."
Mr Riley was loaded onto the ambulance with the mother-of-two.
"I was taped to her leg so I couldn't let go," he said.
"They had to undo my hand when we got to hospital because I had cramp for the length of time I was holding her artery."
'Playing god'
Mrs Vickers, who lost her leg, has since died of cancer.
Looking back, Mr Chadwick said he was faced with the role of "playing God".
"I know I made the right decision on the day.
"It was incredibly distressing even for a paramedic, it was even more distressing when we were notified there could more devices and the police asked if we wanted to leave the street for our own safety. We stayed."
Three weeks earlier, Mr Chadwick had treated a police officer who was shot by the IRA gang which had planted a bomb in Warrington.
Of the bombings on 20 March, he said: "It was immensely difficult with everybody wanting your help.
"In fact one police officer got so frustrated there was only one vehicle there that he dragged me by my hair to see his patient, who was Johnathan Ball.
"Even though I used all my drugs and paramedic intervention, he could not be saved,"