Yellow Duckmarine drivers tribunal settled out of court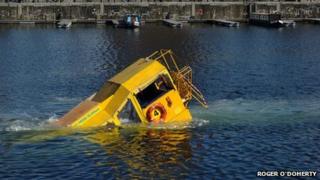 An employment tribunal brought by two former drivers of Liverpool's Yellow Duckmarines over alleged safety fears has been settled out of court.
The drivers of the city's amphibious tourist vehicles were claiming they were sacked for raising health and safety issues months before one sank.
The union Unite said the tribunals, due to take place this week, had now been settled out of court.
Yellow Duckmarine bosses were contacted but were not available for comment.
The World War II vehicles take tourists around Liverpool on land before ending the tour with a ride in the Albert Dock.
One of them started to sink in the dock on 30 March, and passengers had to be moved on to a pontoon.
None of them went into the water.
An internal inquiry has begun and the Maritime and Coastguard Agency is investigating.