Thatcher's Dead Party: 'Not in the name of Hillsborough 96' plea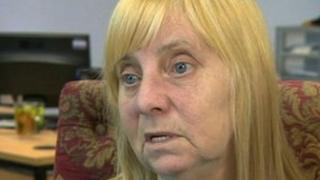 A Hillsborough campaigner has asked people attending a party to mark Lady Thatcher's death not to celebrate in the name of the 96 supporters who died.
Hundreds of people are expected to attend the party outside St George's Hall in Liverpool on Wednesday.
But Margaret Aspinall, who lost her son James in the 1989 disaster, urged those going to the gathering: "Please don't do it in the name of the 96."
The Thatcher's Dead Party is being held on the same day as the ex-PM's funeral.
Mrs Aspinall, chair of the Hillsborough Family Support Group, said: "If you want to do it [celebrate the death], it's your prerogative but don't do it in the name of the Hillsborough 96."
She said she had no personal feelings towards the former Conservative prime minister, who died on Monday at the age of 87 after suffering a stroke.
'Right to protest'
Baroness Thatcher's funeral is to be held at St Paul's Cathedral on Wednesday.
The party organised outside St George's Hall is set for 18:00 BST the same day.
Merseyside Police said the force recognised the right of people to demonstrate peacefully and to express their views.
Police said they would work with other agencies to "facilitate a peaceful demonstration and ensure minimum disruption is caused".
A total of 96 Liverpool fans died following a crush on terraces at Sheffield Wednesday's ground during the FA Cup semi-final between Liverpool and Nottingham Forest in April 1989.
Margaret Thatcher was in power when the disaster happened.
An independent report by the Hillsborough Independent Panel published in September found police had changed witness statements to blame Liverpool fans for the tragedy.