Bill Shankly: Liverpool fans mark manager's 100th birthday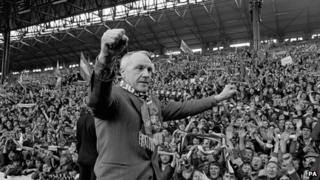 Liverpool fans are to mark the 100th birthday of the team's legendary manager Bill Shankly with a charity bike ride from Glasgow to Liverpool.
Organised by the club's charitable arm The Liverpool FC Foundation, the 270-mile ride runs from 29 August to 1 September, the day before his birthday.
Mark Haig, from the foundation, said it was fitting that its first charity ride should honour such a historic figure.
Shankly, who died in 1981, was born in Glenbuck, Ayrshire on 2 September 1913.
Starting at the Sir Chris Hoy Velodrome in Glasgow, 170 riders will take in Glenbuck, Carlisle United, where Shankly played his first match, and Preston North End visiting the Shankly Kop.
'Perfect birthday'
From Preston an additional 300 participants will continue to the Pier Head in Liverpool, past the club's Anfield stadium. They will be joined by former players Robbie Fowler and Steve Harkness.
Karen Gill, Bill Shankly's grand-daughter, said: "This is a perfect way to support my grand-dad's 100th birthday.
"The ride goes through all of his important places during his lifetime and he would have been proud to know that everyone is raising money for Liverpool's Foundation."
Shankly took over as manager in 1959 when the club was in English football's second tier and built a footballing dynasty by the time of his retirement in 1974, laying the foundations for its dominance of European football in the late 70s and early 1980s.
His team won the FA Cup twice in 1965 and 1974, and the First Division title in 1964, 1966 and 1973.