Coronation Street actor Andrew Lancel 'lured' boy into bedroom, court told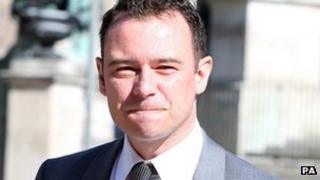 A former Coronation Street actor lured a boy into his bedroom with an offer to help with sleep issues before sexually assaulting him, a jury has heard.
The man, now 35, told Liverpool Crown Court that Andrew Watkinson, 42, from Gateacre had offered to show him relaxation techniques when he was 15.
The actor denies six counts of indecent assault of a child under the age of 16.
Mr Watkinson, who uses the stage name Andrew Lancel, played Frank Foster in the ITV soap.
'Bit weird'
The witness told the court that Mr Watkinson, whom he had met at a Southport theatre group, had offered to help him deal with a sleep deprivation problem he was having by giving him a massage during a "sleepover" at the defendant's home.
He said the offer was "a bit weird" but he went because the actor seemed "to know what he was talking about".
He said once in Mr Watkinson's bedroom, the actor carried out a sex act on him.
"I lay there not entirely sure what to do," said the witness. "I was basically frozen to the spot thinking, 'oh my God, what just happened?' I was shaking."
The trial continues.