Labour Councillor Jake Morrison, 20, suspended over MP row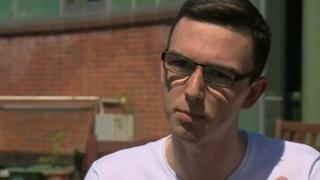 Liverpool's youngest councillor has been suspended from the Labour Party following a row with a Merseyside MP.
In an official complaint, published by Jake Morrison, Labour MP for Liverpool Wavertree Luciana Berger described his "complete lack of teamwork".
Councillor Morrison wrote to Labour leader Ed Miliband with a complaint about his treatment from Ms Berger.
The 20-year-old, who has been a Wavertree councillor since 2011, said she had made his "life unbearable".
Ms Berger has denied his allegations.
In the complaint, sent to Councillor Morrison and Mayor of Liverpool Joe Anderson, Ms Berger wrote: "Of the 14 Labour councillors in the Wavertree Constituency you are the only one who chooses not to engage with my office, or get involved with our constituency activities."
'Internal enquiry'
In a statement, Mr Anderson said he met with Councillor Morrison after the complaints were raised.
It was agreed the complaints would be "comprehensively investigated", but Councillor Morrison then, on social network sites, published "the wording of his complaint while also making further comments".
After a further meeting with the mayor, Mr Anderson said Councillor Morrison "publicly repeated the nature of his complaints which were the subject of the internal enquiry" on radio and television programmes.
In an interview with BBC North West Tonight, Councillor Morrison said: "I'm not here to please Luciana Berger to advance my own career."
Councillor Morrison earlier tweeted: "Sadly I have just been informed I am suspended from The Labour Party. I am Labour through and through, and I hope this matter is resolve."