Wendy Parry appointed OBE in Queen's Birthday Honours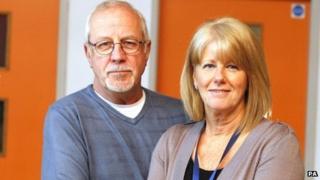 The mother of a boy killed in an IRA bomb blast in Warrington has been appointed OBE in the Queen's Birthday Honours list.
Wendy Parry's 12-year-old son Tim was killed together with three-year-old Johnathan Ball in the blast in 1993.
She set up the Foundation For Peace centre - now a national charity - in their memory with her husband Colin. He received an OBE in 2004.
Trade Union boss Brendan Barber from Southport is knighted.
The 62-year-old former Trade Union Congress general secretary has been awarded a knighthood for services to employment relations.
He said: "The trade union movement does outstanding work day in day out, making lives better for millions of ordinary people.
Keep their names alive
"I regard this honour very much as recognition of that major contribution to the life of our nation."
Mrs Parry and her husband set up the peace centre in Warrington in 2000 to help support people harmed by political violence and terrorism.
She said she was "very proud and honoured" to be included on the list.
"Everything we have done in the past has been to keep Tim and Johnathan's names alive. This could be another thing that will help do that."
Her husband said the honour was "very, very well deserved" and he was delighted for her.
The complete list of those recognised in the Queen's Birthday Honours from Merseyside and Cheshire are as follows:
Knighthood:
Brendan Barber, former general secretary of the Trades Union Congress, for services to employment relations
Order of the British Empire
CBE
Kenneth Peter Bounds for services to the community in the city of Liverpool
Max Laurence Steinberg OBE for services to Business and to the community in Liverpool
OBE
Rosemary Campbell from Liverpool for services to vulnerable women through her work with the UK Network of Sex Work Projects
Claire Dove, MBE, DL. Chief executive of Blackburne House and Chair, Social Enterprise UK, for services to social enterprise
MBE
Kathleen Elizabeth Boullen, chief executive of St Helen's Chamber, for services to Business in the North West
Lynne Elizabeth Condell, student funding manager at Liverpool John Moores University for services to higher education
Dr Paul James Randle Cuthbertson, chairman of Wirral Hospice St. John's, Cheshire, for services to palliative care
Councillor Thomas Hargreaves, Mayor of St Helen's, for services to local government
Brian Lawless, chair of governors, Northcote Primary School, Liverpool, for services to education
Jane Elizabeth Morgan from Liverpool for services to midwifery in the UK and to maternity service provision in Shyira, Rwanda.
Graham Peter Wilmer, founder of the Lantern Project, for services to survivors and victims of abuse
British Empire Medal
Cyril Oliver Goulbourne for voluntary service to the Royal British Legion in Formby
Peter Healey, JP and patron of Blue Coat School Academy, Wavertree, Liverpool, for services to education
Dorothy Sheila McIlhagga, from Wirral, founder of the Oldershaw Singers for services to music and the community
Queen's Police Medal
John Andrew Ward, Assistant Chief Constable of Merseyside Police.