Liverpool University staff balloted over strike action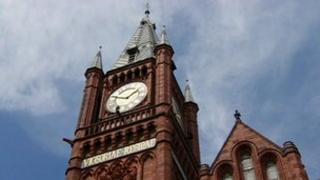 Staff at Liverpool University are to be balloted for strike action over planned changes to working conditions.
University and College Union (UCU) members voted to ballot owing to a "threat to dismiss them" unless they worked unsociable hours.
The UCU said a 'yes' vote may see "an escalating programme of strike action".
Liverpool University said it remains "committed to achieving an agreement with the trade unions on the terms of the new contract".
A university spokesman said discussions have been held to potentially "standardise the terms and conditions for non-academic staff".
It wants to do this to apply them to be fair across the institution and to provide "greater consistency" involving staff receiving overtime pay or compensatory time off.
'Deplorable attack'
The UCU say the proposals, affecting more than 2,800 staff, would mean dismissing workers and rehiring them on inferior terms.
Martyn Moss, UCU regional official, said he "didn't know of any other university that has attacked its staff's terms and conditions in such a deplorable way".
"The threat to dismiss more than half the staff risks doing serious damage to the good reputation of the University of Liverpool", he said.
"Unless the university withdraws the redundancy notice and agrees to sit down with us to try and resolve this, strike action early in the autumn term looks a very real possibility".
He added the plans had already been rejected by the faculty of health and life sciences at a meeting last week, with more than 1,500 people also signing an online petition against the proposed move.