Liverpool events cause 'ripple through city's economy'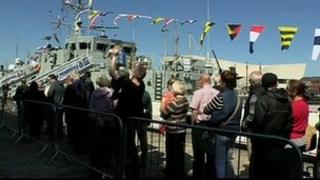 Around 300,000 people came to Liverpool for the Battle of the Atlantic events, the council has said.
The 70th anniversary commemorations in May brought city shops their "busiest days in 2013", a spokeswoman said.
Shopping centre Liverpool One saw a third more visitors, while Williamson and Clayton Squares saw a 66% increase.
City Central BID's Ged Gibbons said the "benefits of such events ripple right through the city's economy".
The figures, released by the council, also show that more than 100,000 people visited for the Mersey River Festival earlier this month and 45,000 came for celebrations of the Albert Dock's 25th birthday at the end of May.
Mr Gibbons, whose organisation represents city centre businesses, said the events "also serve to strengthen and promote the city's appeal as an amazing destination to visit and enjoy".
Mayor Joe Anderson said the numbers "re-emphasise the importance of culture and how Liverpool thoroughly deserves its reputation as one of the leading cities when it comes to putting on high-quality, free events".
He added: "These events will have brought millions into the local economy, supported jobs which is extremely valuable in this current climate, and, importantly, brought a feel-good factor to the city."