Work begins on Archbishop Beck Catholic Sports College in Fazakerley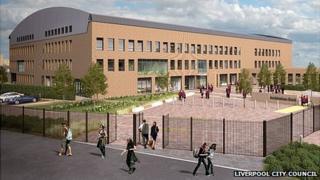 Work has begun on a second college to be built as part of a council plan to transform Liverpool's schools.
Liverpool School Investment Programme (LSIP), devised to replace the scrapped Building Schools for the Future (BSF) scheme, will see new 12 schools built.
The work on the £17m Archbishop Beck Catholic Sports College in Fazakerley follows the building of the Everton's new £15m Notre Dame Catholic College.
Liverpool mayor Joe Anderson said improving schools was "a priority".
The city council introduced the LSIP after the BSF programme was cancelled by the government in 2010.
The project will be paid for with capital funding, receipts from the sale of surplus school sites and council resources.
A council spokesman said the Fazakerley college, which is being built alongside the existing Archbishop Beck school, would be "made in Liverpool".
As a result, the council have set a target to spend 72% of the money used in the project with firms in and around Liverpool.
Mr Anderson said the council was "determined to make sure the construction project benefits local firms, so we maximise the benefits to the city".
Headteacher Paul Dickinson said the school "was immensely grateful for everyone's determination to ensure our new school is built".
The new college, which will feature a solar panel roof to generate its electricity, is due to open in September 2014.