Parents of Kiaran Stapleton warned of eviction threat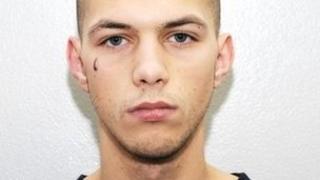 The parents of killer Kiaran Stapleton have been ordered to behave or face losing their Salford home.
A judge at Manchester Civil Justice Centre gave Billie-Jean and Anthony Stapleton a five-year suspended possession order.
The court heard that the couple had made neighbours' lives "a misery" at the house on Regent Square, Ordsall, where they have lived for 23 years.
Stapleton, 22, is serving life for murdering Indian student Anuj Bidve.
He is the fourth of nine children of the couple.
The order also covers the behaviour of visitors to the house.
The order states they must not cause "nuisance or annoyance within the locality, must not allow the property to be used for immoral or unlawful activity" and they must not be convicted of an offence in the locality.
Judge's decision welcomed
Sue Sutton, director of customer and neighbourhood services at Salix Homes, said: "Salix Homes and Salford City Council welcome the judge's decision today to grant a five-year Suspended Possession Order (SPO) against Billie-Jean and Anthony Stapleton.
"Under the terms of the five year SPO, which is the longest ever handed out in Salford, Mr and Mrs Stapleton, or anyone else residing at or visiting the property, must not breach the terms of the order or they could face losing their home.
"Salix Homes takes community safety very seriously and we strive to make sure that our neighbourhoods are safe and secure places to live."
If the couple breach the order, then the social housing company and local authority has the legal right to enforce the possession order, which could lead to eviction.
Action was pursued after their son was convicted of murder "as well as months of criminal activity and anti-social behaviour" at the property and locality.
Salford Mayor, Ian Stewart, previously said the family had "made life a misery for local people" and he called on tough action to be taken.
During his first appearance before magistrates, Stapleton was asked if his name was Kiaran Stapleton. He replied: "No, Psycho. Psycho Stapleton."
His trial heard that both prosecution and defence agreed he had a recognised medical condition of anti-social personality disorder and although he had psychopathic traits, he didn't strictly fit the criteria of psychopath.
He was an anxious child whose behaviour deteriorated at secondary school, where he was excluded at 14.
Stapleton was sentenced to a minimum of 30 years in July for shooting Indian student Mr Bidve on 26 December, 2011.
He appealed against the length of the term but Court of Appeal judges found there was "no reason to interfere" with his sentence.