Christ the King: Four-year-old £24m Huyton school to close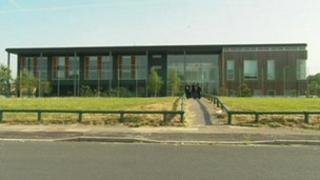 A £24m school in Merseyside, which opened four years ago, is to close.
Christ the King Centre for Learning, in Huyton, opened under the government's Building Schools for the Future scheme.
At a meeting earlier, Knowsley Council's cabinet voted unanimously to close the school on 31 August because of declining numbers in pupils - 381 from a possible 900 places available.
Parent Val Golding, whose son is in year eight, said: "They've wrecked our community."
"There will never be a faith secondary school in this area ever again," she added.
The joint Roman Catholic-Church of England school caters for students aged between 11 and 16.
It has been running at a loss, is £1m in debt and has been put in special measures.
The authority said students will be given places at other schools.
Councillor Graham Wright, Knowsley Council's cabinet member for children and family services, said: "I know this has been a tough time for parents and pupils but I can assure them that every effort will be made to ensure their transition to a new school in September is made as easy as possible."
Christ The King replaced the St Edmund of Canterbury Secondary School and was billed as a centre which could be used by the whole community for learning, sport, cultural and leisure activities when it opened in 2009.