Builder prosecuted after taking son 10, on unsafe scaffolding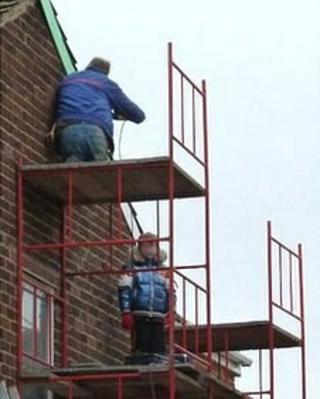 A builder has been given a community service order for taking his 10-year-old son on to "unsafe" scaffolding in Merseyside where he was working.
The 51-year-old man from Kirkby, who cannot be identified, was prosecuted by the Health and Safety Executive (HSE).
A passing HSE inspector took a photograph of the boy on the scaffolding in February six metres above the ground.
Magistrates ordered his father to carry out 80 hours community service.
The boy was photographed in a half-term holiday as his father was carrying out repairs the property.
Liverpool Magistrates' Court heard the boy shimmied along a narrow plank on the scaffolding as he made his way towards the top of a ladder where his father was waiting for him.
A passing HSE inspector ordered the builder to dismantle the scaffolding as it was unsafe.
No boards had been fitted around the edge of the scaffolding to stop tools or materials falling to the ground below.
After the hearing, Insp Matt Greenly said: "Building sites have the potential to be dangerous places if the proper health and safety procedures aren't followed, with dozens of deaths reported in the industry every year. They're certainly no place for a ten-year-old boy."