Lollies cool hot otters at Blue Planet Aquarium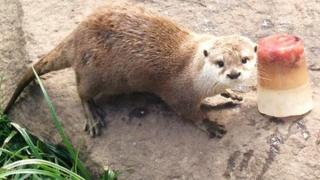 Otters are being given fish-flavoured ice lollies as keepers help them try to keep cool during the heatwave.
The dish, made from shrimp and strips of fish, is being served at the Blue Planet Aquarium, near Ellesmere Port in Cheshire.
It poses a new challenge for the otters, encouraging them to work harder for their food and use their hunting instincts, keeper James Dale said.
It also help them cool down and keepers have fun making them, he added.