Commission to look at how Liverpool deals with 'green issues'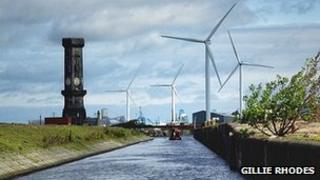 Liverpool's mayor has set up a commission to look at how the city faces future environmental issues.
The Environmental Sustainability panel will "review how the city is preparing for when resources will be in scarcer supply", a city council spokesman said.
Joe Anderson said he wanted to find "low carbon initiatives to give us a competitive advantage in coming years."
The independent body will be chaired by Liverpool John Moores University's Vice Chancellor Professor Nigel Weatherill.
He said the founding of the commission demonstrated a "commitment to ensuring that Liverpool is at the forefront of the debate on environmental sustainability".
The body will consider the "usage of environmental assets", such as the river Mersey, and "advise on the potential for new industries in the eco and environmental sector", the spokesman said.
Mr Anderson said issues such as climate change "present us with a series of tough challenges and nowhere will be immune as the world's resources get scarcer".
"However, while there are huge challenges, there is also a great potential for developing green industries," he said.
"We need to examine the likely impact on Liverpool and how we can best prepare."
He added that the commission would be "completely independent [and] will get the views of a wide variety of people in both the public and private sector before making recommendations for action".