Kirkby Sonae factory deaths due to safety failures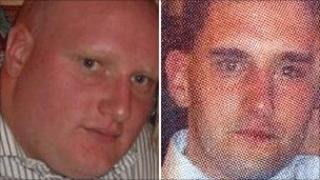 The deaths of two engineers dragged into machinery at a Merseyside factory were caused by a failure to follow procedures, an inquest has found.
James Bibby and Thomas Elmer died after being dragged into a conveyor belt at the Sonae chipboard factory in Kirkby in December 2010.
An inquest jury found there was a lack of training in how to use the equipment.
The Health and Safety Executive said it would consider criminal charges.
In a narrative verdict the jury said the two sub-contractors from Rossendale, Lancashire, had not been shown how to isolate the conveyor belt from the power supply.
Belt triggered automatically
They were carrying out repairs when the conveyor belt started up and they were dragged into the machinery, the inquest at Bootle Town Hall heard.
The jury was told the conveyor belt was triggered automatically as factory machinery started to dump wood chips into a silo.
A post-mortem examination found both men died from multiple injuries.
The jury said: "It is our view that the death of each man was the result of a failure to adopt appropriate procedures."
The site, which opened in 2000, was badly damaged by a large fire in August 2011 in which a demolition worker - James Dennis Kay, 62, from Heywood, Greater Manchester - died.
About 10,000 people living near the site are bidding for compensation, arguing fumes from the blaze affected their health.
The plant was affected by a second fire in January 2012 and it closed in September with the loss of 220 jobs.
A Health and Safety Executive spokesman said: "We are carrying out a thorough investigation into the deaths of James Bibby and Thomas Elmer and will now carefully consider the inquest's findings before deciding whether it is appropriate to bring criminal charges."
A spokesman for Sonae said: "Sonae had a permit to work system in place, which had it been followed would have prevented the tragic accident.
"It will be of little consolation but our thoughts remain with the families of Thomas Elmer and James Bibby."