Two young elephants die within weeks at Chester Zoo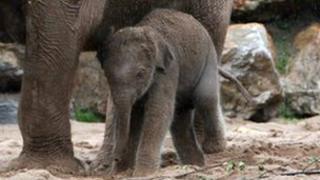 A second young elephant has died in the space of a month at Chester Zoo.
Three-year-old-male Nayan Hi Way died a few weeks after two-year-old female elephant Jamilah, the zoo said.
A post-mortem examination showed Jamilah died of an illness that affects both wild and captive elephants aged between one and four years of age.
Staff said it was too early to determine what had caused the second death but said the rest of the elephant herd remained in good health.
Dr Mark Pilgrim, Chester Zoo's director general, said it was "devastating news".
"The loss of two young elephants has a profound effect on everyone who works so hard to provide the best level of care for the herd," he said.
The herd of Asian elephants at the zoo is made up of three generations of the same family.
Jamilah was a daughter of Thi Hi Way, the grandmother of the herd, who is also mother to Sithami whose daughter Sundara was the mother of Nayan.
The youngest female, Bala, was born in January, two months after the youngest male, Hari.
There are two other females and another male in the herd.
Chester Zoo is part of a breeding programme coordinated by the European Association of Zoos and Aquariums that is focused on sustaining the elephant population in Europe.