Vauxhall parent company fined over death at Cheshire plant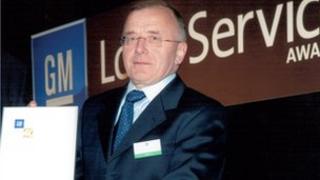 A car firm has been fined £150,000 for breaching health and safety legislation when an electrician was crushed to death at a Cheshire car plant.
Ian Heard, 59, died after being caught in machinery at the Vauxhall factory in Ellesmere Port in July 2010.
General Motors UK has previously admitted two charges of breaching health and safety. The fine was imposed at Liverpool Crown Court.
Vauxhall said it was "an unfortunate case".
The company's spokesman said it was "set against the background of an exceptional track record for workplace safety within Vauxhall's manufacturing environment.
"Safety will continue to be the number one priority for Vauxhall across its business."
The Health and Safety Executive (HSE) brought criminal proceedings against General Motors UK.
Mr Heard, from Birkenhead, died 11 days later in a hospital in Chester. He had worked for the company for 43 years.
The charges related to failing to ensure the safety of employees and failing to prevent access to dangerous parts of machinery, the HSE said.