Deaf rave held for Liverpool International Music Festival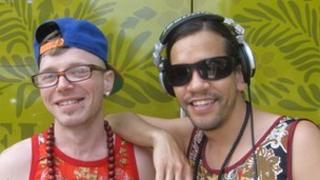 A deaf rave where the bass is turned up high is taking place in Liverpool as part of a major music event.
The event has been organised by disabled and deaf arts festival DaDaFest for the Liverpool International Music Festival.
Deaf raves feature bass turned up very loud so the music can be felt through the body.
Hearing people are advised by the organisers to bring earplugs.
Among the performers on Friday night are DJ Troi 'Chinaman' Lee, who plays a mix of hip hop, R&B, reggae, dance and electro swing.
He said: "Deaf Raves aim to bring deaf people together as one, it a joy to see all different deaf communities unite and have fun.
"We express visually and we love feeling the vibrations and vibes of the people."
He said when he was growing up there was "a lack of opportunities for deaf people going out to socialise."
The DJ said he can hear the music with his hearing aid and can tell if its R&B, jazz, soul or techno.
Other performers will be MC Geezer, who signs to the songs, and DJ Inigo.
Ann Wade, executive director of DaDaFest, said "We're pleased to be bringing a deaf rave to the city as part of Liverpool International Music Festival.
"It should be a great party and celebration of deaf culture."