Hillsborough relatives 'positive' after DPP meeting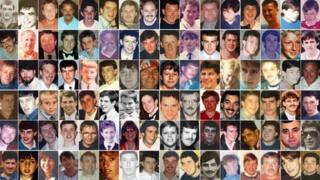 Hillsborough families said they were "positive" after talks with the chief prosecutor about a panel to oversee investigations into the tragedy.
The Director of Public Prosecutions (DPP), Keir Starmer, met families of victims of the 1989 tragedy about forming the so-called challenge panel.
It is intended to give relatives the chance to oversee the inquiries into what happened.
At the meeting the families were handed names of the prospective panel members.
Panel personnel
There are three investigations into the disaster, in which 96 Liverpool fans were killed at an FA Cup semi-final at Sheffield Wednesday's ground.
Evidence is being gathered for a fresh inquest, the Independent Police Complaints Commission (IPCC) is investigating allegations of a police cover-up and a third probe is looking at whether any authorities, from the police to the Football Association, are guilty of manslaughter or criminal negligence.
The action stemmed from the publication of the Hillsborough Independent Panel a year ago, after which the families were promised a role in the fresh investigations.
Once established, the challenge panel would scrutinise the inquiries and publically report any concerns.
On Wednesday, some of the Hillsborough families held a news conference in which they raised concerns about the pace of the investigations.
They also revealed that names being considered for the challenge panel were Sir Stephen Sedley, retired Lord Justice of Appeal Sylvia Casale and Professor Roger Graef.
'Good progress'
Speaking after Friday's meeting in Warrington, which IPCC chairwoman Anne Owers also attended, Mr Starmer said: "We have been working through the issues, working through the concerns and trying to make some progress.
"I am hoping that we will have an effective set of arrangements in the near future.
"I understand the concerns from the families about any delay they have waited a long time for a proper investigation and proper decisions to be made."
Steve Kelly, member of the Hillsborough Justice Campaign, said: "There was good progress made, the challenge panel is possibly going to be a step closer.
"The names of the people who are hopefully going to be on that panel were given to the families."
Fellow campaigner Barry Devonside said: "It was a positive meeting, I don't think we have achieved everything we wanted to. Yes, there is going to be a challenge panel.
"We want these people on the panel to go in and interview police officers and say: 'Who have you interviewed? and 'What have you asked?' and 'What have you done?'."