Liverpool's Welsh Streets plans face public inquiry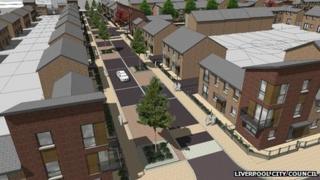 A £15m plan for Liverpool's Welsh Streets has been called in by the Communities Secretary Eric Pickles for a public inquiry.
The proposals would see 150 new homes built, about 280 homes demolished and 37 properties refurbished.
The planning process froze in July, hours after councillors had approved the proposals, for Mr Pickles to consider whether an inquiry was needed.
A final decision will be made by Mr Pickles following the inquiry.
Liverpool Mayor Joe Anderson, Labour, reacted angrily to the decision.
He posted on Twitter: "Tory hypocrites spout localism+ then ignore community voices. Calling in the Welsh Streets plan is political malice. #shameful"
Mr Anderson said residents "have been badly let down" by the decision.
"This is hugely frustrating and bitterly disappointing for the local community," he said.
"Residents have faced more than 10 years of uncertainty and delay, and made clear in no uncertain terms that they backed what has been put forward."
Ringo Starr
The properties are nicknamed the Welsh Streets as they were built and lived in by Welsh workers in the late 19th Century and named after Welsh towns, villages and valleys.
Beatles drummer Ringo Starr was born at 9 Madryn Street, one of the 37 homes to be restored if the plan is approved.
The housing association Plus Dane said previously any delays to the scheme would "seriously jeopardise" the funding available.
Ken Perry, chief executive, said: "Our plans will create over 150 much-needed high quality homes. They have been unanimously approved by the council and have the significant backing of local residents, so the decision is very disappointing."
The social landlord could lose up to half of its funding for the project from the Homes and Community Agency as the project must be completed by March 2015.
'National controversy'
Save Britain's Heritage owns a house in one of the streets, where a resident spent more than £3,000 renovating the property.
The Department for Communities and Local Government said it wanted planning applications to be decided by local councils "but considers in this instance that the proposal may conflict with national policy and has greater than local importance".
Mr Pickles said arrangements for the public inquiry "will be made shortly" and details advertised locally nearer the time.
Planning Minister Nick Boles said: "The government is committed to giving power to councils and communities to decide their own planning decisions and only calls-in cases very rarely.
"Each case is always carefully considered on its own facts.
"The Welsh Streets application has attracted national controversy and has broader implications for the historic environment. It involves issues of more than local importance."