Demolition of 'eyesore' Chester building for theatre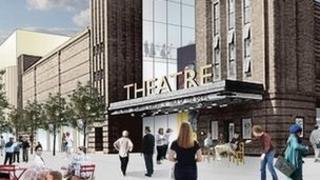 The demolition of an "eyesore" Chester office block, which is making way for a £37m theatre, has begun.
Commerce House, on Hunter Street, is being replaced by an 800-capacity auditorium, a library and cinema.
Tom Perks, of Vale Park Contracts, said the removal of the 1960s-erected building was a "surgical deconstruction floor by floor".
The work is expected to take 18 weeks and up to 300 truck loads of rubble could be removed.
Councillor Stuart Parker said the end of Commerce House, on Hunter Street, heralded the beginning of "an exciting new era."
He said the demolition would be "the first real signs" that work on the new theatre had begun.