Fresh Hillsborough witness appeal at Liverpool v Fulham game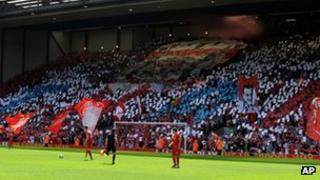 Thousands of leaflets were handed out at Liverpool's home game against Fulham appealing to fans to help with the probe into police actions in the Hillsborough disaster.
The Independent Police Complaints Commission (IPCC) is urging witnesses to the 1989 tragedy to contact them.
Ninety-six Liverpool fans died as a result of the crush.
The IPCC said 1,400 witnesses had so far responded, but believed some fans may not know about the witness appeal.
'Key piece of evidence'
Supporters' group Spirit of Shankly gave out leaflets at pubs and outside the turnstiles and Liverpool FC distributed flyers as well as displaying posters publicising the appeal at Anfield.
Ian Christon from the IPCC said: "We have had a very good response to the appeal so far, but we have heard there are some people who might not be internet savvy and who are not aware of the appeal.
"We are encouraging anybody who has an account to give to come forward.
"You might just give that little snippet of information that might make a difference... and it might be a key piece of evidence."
The IPCC's investigation follows the report by the Hillsborough Independent Panel published last September, which concluded the lives of 41 fans could have been saved and cleared Liverpool supporters of any wrongdoing.
It found South Yorkshire Police had altered 164 statements and tried to blame fans.
In the aftermath of the disaster West Midlands Police was appointed to gather evidence on the original investigation for subsequent inquiries and inquests.
The police watchdog revealed there were "differences" between fans' statements and questionnaires they returned to the West Midlands Police inquiry.
The IPCC said it has uncovered an additional 74 police statements which had been altered.
As a result, the IPCC issued a request for the fans who gave witness statements to get in touch so they could be interviewed again.