Whiston Hospital apologises for Colin Whalley drug death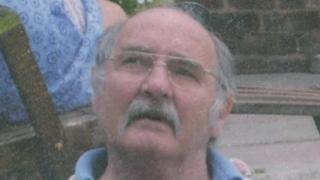 A hospital trust has apologised after the death of a man who was given a fatal dose of a drug through a drip.
Colin Whalley was being treated at Whiston Hospital in Prescot, Merseyside for breathing problems.
He died after a dose of aminophylline, supposed to be delivered over 24 hours, was pumped into his body in 20 minutes.
St Helens and Knowsley Teaching Hospitals NHS Trust accepted the error was a "significant" factor in Mr Whalley's death.
'Sweating and shaking'
A coroner is due to set a date for an inquest to look into the circumstances surrounding his death, on Tuesday.
His widow Norma, said it was appalling she had had to wait two years for an apology, especially because she realised what had happened straight away.
She said: "I was speaking to Colin and all of a sudden he started sweating and he was shaking.
"By this time, 20 minutes had passed and the machine started flashing again and I just said 'Oh my god, she's overdosed him'."
Hospital officials said that because of a lengthy legal process, it was only now able to write to Mrs Whalley and formally apologise for the errors made.
"The trust accepts that the error... played a significant part in your husband's death," the trust said in its letter to her.