Flooding in New Brighton leaves cars and shops under water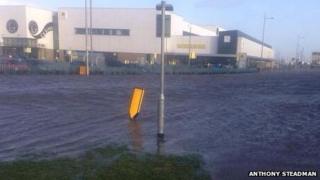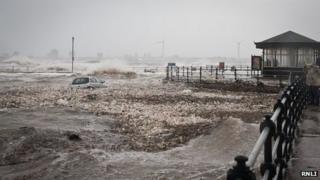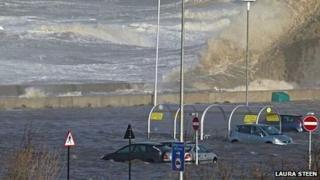 Flooding on the New Brighton waterfront has left cars and businesses partly submerged by sea water.
Eight fire crews were called to Morrisons car park after vehicles were stranded in 2ft of flood water as a result of the severe weather.
Merseyside Police warned the area was "unsafe" because of the conditions. Roads have been closed.
In Knowsley, a man is in a serious condition in hospital after a 60ft tree fell in high winds.
He was injured when the tree landed on two cars and a house in Old Meadow shortly after 10:30 GMT.
Water surrounds cinema
Merseyside Police warned the public to stay away from New Brighton Promenade and Vale Park due to the weather conditions.
Localised flooding has been reported at Home Bargains at Marine Point and Morrisons at Kings Parade, close to New Brighton waterfront.
The water had come over the sea wall and flooded the promenade at Kings Parade.
A fire service spokeswoman said crews found "two people in a car, surrounded by water" who were told to stay in their car to stay safe.
Flood levels in the area receded by 14:20 GMT.
A Morrisons spokesman said the store had "an inch of water on the floor". The fire service said the store was evacuated once the water receded.
People leaving early screenings at the Light Cinema, New Brighton, emerged to find flood water surrounding the building. The cinema closed for the day due to the weather.
High tides are expected overnight in New Brighton and Crosby and people are urged to be careful.
The Black Pearl, a replica "pirate ship" made from driftwood and other objects found on New Brighton beach, was swept away by the tidal surge.